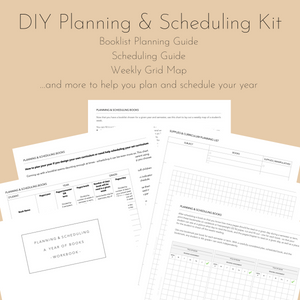 Schedule your entire year with one workbook!
Have you ever needed a little hand holding to help you plan and schedule your curriculum if you DIY, or build your own curriculum booklist? This workbook will help you do just that!
This workbook will help you through planning books and scheduling them across a balanced week, schedule the pages of the book, includes a helpful grid printable for brainstorming and listing book ideas, and the workbook provides printable bookmark schedules to fill out and place in each book in order to facilitate independent work.
Included in this printable set:
7 pages
Cover Page

Book Guide

Suggested guide listing books per year, semester, and day, as well as school time broken down by grade level

Supplies & Curriculum Planning List

Helpful columns breaking down subjects, books used to cover that subject, and supplies and manipulatives used to cover that subject

Student booklist scheduler

Grid planning page
List a book name, number of pages in the book to be read in a year, and then follow the directions to help schedule that book out for the semester or term, for the week, for the day.
Once this page is completed, you'll be able to confidently schedule every book in your booklist and ensure that books are completed for the year.
The scheduler even helps you build in "catch up" weeks that allow for life!


Weekly map

Use it to map out subject scheduling for the week for each student
Or use it to fill in your books across an average week
Add outside classes, sports, jobs, volunteer work to ensure your student has a balanced week of academics and responsibilities.

Bookmark Schedules!

Print as many as needed on cardstock or heavyweight paper - print enough for each book on your student's schedule
Fill out with the pages you scheduled on your booklist scheduler 
Slip in your student's book
Your student is now set up for independent work!

Grid page for brainstorming lists, books, schedules - use this in any way you like! Keep copies in your lesson planner, too!
Please note:
Because this is a digital product, there will be no refunds on this product.

This is not a physical product. After purchase, you will be sent a link to download this printable.

This file size is 8.5" x 11"

The layout is not editable. 

The text spaces are editable. You can add your own text to the text spaces in this pdf file using:


iPAD: using an ipad pro and an Apple pencil and a pdf editing app such as Goodnotes or Notability, open the pdf by importing as a document into the app and edit all text (you can color over text with white and add different text in text boxes), add text to empty spaces, arrange pages, and print your edited pages from Goodnotes.

WINDOWS & MAC: Adobe Acrobat (available to download here)

MAC: edit pdfs using PREVIEW and MARKUP (pre-installed on your mac) or use Adobe Acrobat  (available to download here)

Standard License - Only 1 Printable is allowed per household. Each household may print as much as is needed for the children in that household.

 Thank you for respecting the copyright on this product and not sharing the file with friends.

This product is for Personal Use only. It may not be resold or redistributed.