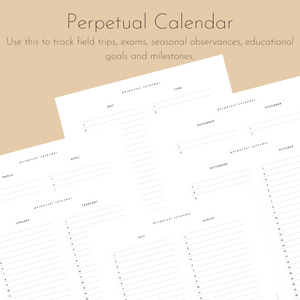 This set of six printables comprises the entire calendar year and can be used as a perpetual calendar planning system. Use this printable set to list field trips, classes, nature study themes, seasonal observances, educational goals or milestones, scope and sequence, testing schedule, standardized testing dates, and anything else you can think of! This printable set could also function as a line-a-day minimal gratitude journal!
Print on letter size paper and use the printable with the two months side by side, or cut the paper in half lengthwise with only month of planning in view at a time. Punch to fit your notebook or planning system or use as part of your clipboard system. 
This printable set also works on an ipad/tablet system with apps like Goodnotes. (Import as a document after purchasing)
Included in this printable set:
Six different printable pages with two months on each page. Months are dated and lines are provided for listing purposes.

LAYOUT: Two month-on-a-page perpetual calendars
SIZE: Letter size
Please note:
Because this is a digital product, there will be

 

no refunds

 

on this product.
This is not a physical product.

 

After purchase, you will be sent a link to download this printable.
This file size is

 

8.5" x 11"
The layout is not editable.
The

 

text spaces are editable. You can add your own text to the text spaces in this pdf file using:

iPAD: using an ipad pro and an Apple pencil and a pdf editing app such as

 

 

 

Goodnotes or

 

Notability, open the pdf in the app (Import as a document) and edit all text, add text to empty spaces, arrange pages, and print your edited pages from Goodnotes.
Standard License - Only 1 Printable is allowed per household. Each household may print as much as is needed for that household.

 Thank you for respecting the copyright on this product and not sharing the file with friends.

This product is for Personal Use only. It may not be resold or redistributed.